One night just over a year ago my friend's wife texted me and asked if I would be interested in buying a Wrangler for $450. Needless to say my interest was piqued. A short phone call later I found out that it was a red Jeep with a hardtop that just started "running funny" one day.......that is all the owner could really tell me about it.
A half hour later I was heading south in a borrowed and beat up farm truck armed with $450 cash, bumper pull hitch, cordless drill and a small tool kit. After driving two hours into an approaching snow storm I met the owner, handed over the cash, drilled four holes in the bumper, bolted on the drawbar and drove my way back home as the snow began to come down with increasing intensity.
On the drive home I learned why using a draw bar to to tow a vehicle is not recommended in the ice and snow! Even a tiny Wrangler is about 3500 pounds of dead weight back hanging onto your bumper with no brakes. After nearly every turn the front wheels of the Jeep wouldn't return to center on their own as they normally would because of the icy conditions. This caused the Jeep to lurch, push and pull all the truck all over the road! The ride home was hairy and took nearly 5 hours instead of the regular 2 but I made it home in one piece…..
In the morning the storm had cleared and I discovered that the rig I had brought home was in reasonable shape……minus the engine (more of that in a bit)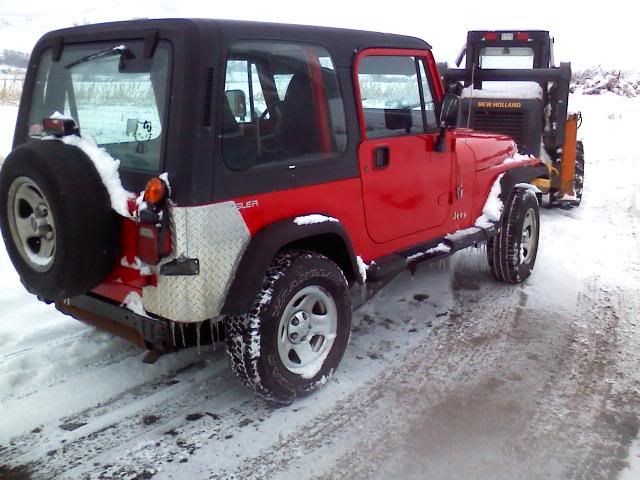 Pleased with my purchase I decided to hop in and see how it ran. To my surprise it fired right up, a bit of clicking at idle but not too bad. I cracked open the throttle and revved the engine only to be greeted with a great CLANK-BANG-THUD as the engine sputtered to a halt......I proceeded to look under the hood and discovered two ragged fist sized holes in the side of the engine and parts lying in the snow that shouldn't have been. **insert a selection of four letter words here**
After a bit of sleuthing around the engine bay I discovered that there wasn't a drop of oil in the battered oil pan, snapped connecting rods in cylinders #1 and #4 and an oil filter dated almost two years earlier. Indicative of an engine died from oil starvation…………I didn't have the time or money due to school so she was put out to pasture to await her time in the sun.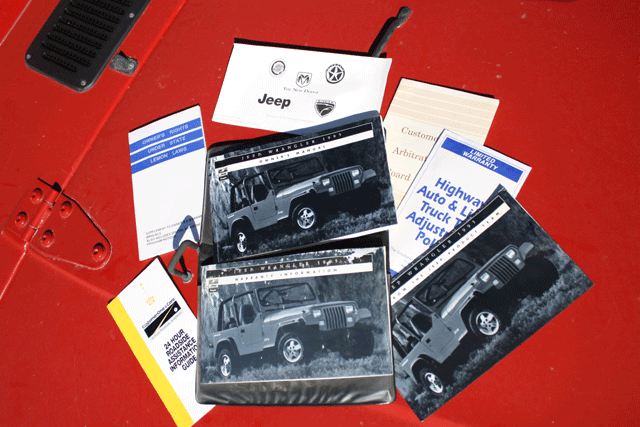 Along the way I got my grimy mitts on a lightly used Roof Top Tent for a good deal and couldn't pass it up (delaying the engine rebuild a couple of months in the process) I mounted it up to "old" Jeep and enjoyed it for the summer. I quickly fell in love with the fast set up, sleeping on a smooth rock free surface, off the ground away from bugs and the mud.......with a comfortable mattress nonetheless!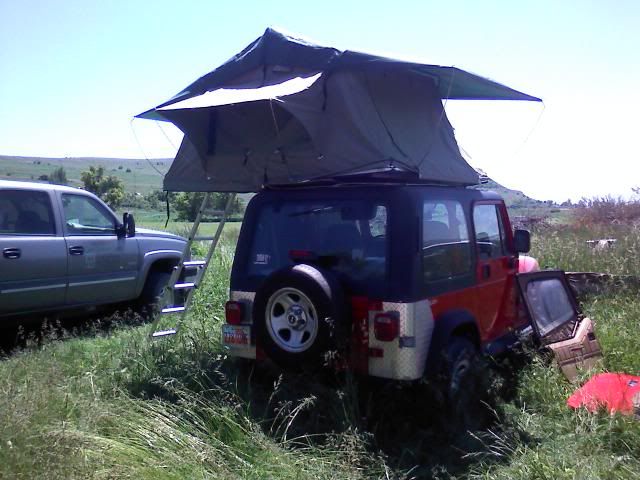 Driving up Mineral Basin, American Fork Canyon:
I went to a local pick-and-pull auto wrecker with my friend Kyle and we surgically removed a new donor heart for my steed. I dropped it off at a machine shop and a month later........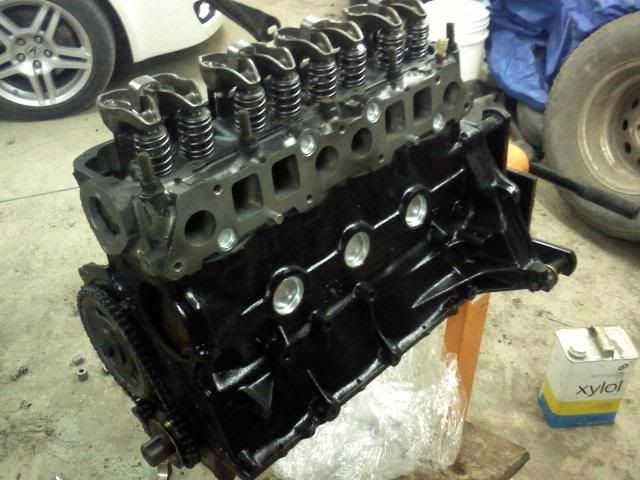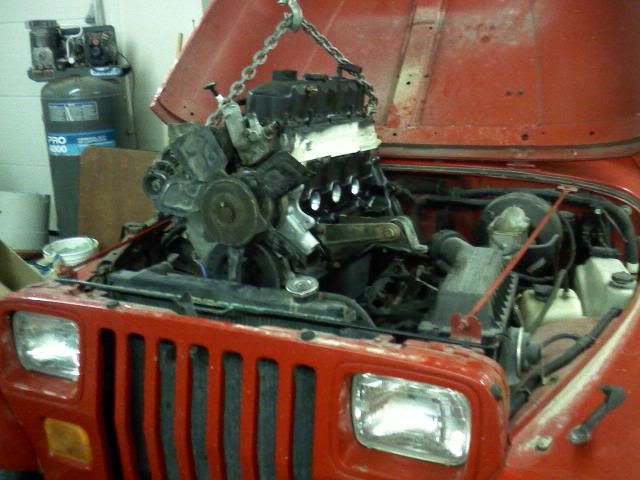 By the time I was done with the rebuild I had replaced the:
Engine (full long block)

Clutch, flywheel

Thermostat

H20 Temp sensors

Oxygen sensor

Crank position sensor

Cam position sensor

Radiator

Coolant hoses

Full fluid flush and change: differentials, transfer case, engine, coolant , etc, etc.......

Distributor cap, rotor, plugs and wires
The entire Jeep up to this point had cost me $2800. Pretty reasonable for a "new" engine and a Roof Top Tent! (the tent sells for just shy of $1200!) In the process I upgraded to a hard top, wing windows, tilt steering wheel, heater that actually works, crank windows instead of zippers AND intermittent wiper blades!